From the Gridiron to the Pulpit: An Exclusive Chat with Webster Slaughter, Cleveland Browns Legend
"If you've got an opportunity to get on this ship, do not miss it because this is once in a lifetime"
Catch Up With Webster Slaughter
Webster Slaughter is no stranger to the hearts of Cleveland Browns fans. Known for his athleticism, tenacity, and game-changing plays, Slaughter left an indelible mark on the NFL. But his journey doesn't end on the field; it extends to a higher calling—ministry. Recently, he joined the Burning River Podcast for a candid discussion on his life, his NFL career, and his current role as an ordained pastor. With plans to reunite with fans on the Browns Fan Cruise in 2024, we delve into Slaughter's inspiring journey.
"If you've got an opportunity to get on this ship, do not miss it because this is once in a lifetime"
Did you know that Webster only played football in high school for one year?! We're thanking his high school coach for pushing him to go for it! Where else would we get all these amazing stories?!
Webster Slaughter was a key receiver for the Browns throughout the late '80s and early '90s. With a flair for making crucial catches in high-pressure situations, he became a favorite target for Browns quarterbacks. His remarkable route-running skills and hands made him a standout during his time with the Browns.
The Stats Speak For Themselves
Over six seasons in Cleveland (1986 – 91), Slaughter caught 305 passes for 4,834 yards and 27 touchdowns. He finished his career with 563 catches for 8,111 yards and 44 touchdowns. His 305 catches rank seventh in team history, while his 4,834 receiving yards rank sixth and his 27 receiving scores rank ninth. Slaughter had his best statistical season in 1989, when he made his first of two Pro Bowls after catching 65 passes for 1,236 yards and six touchdowns. Slaughter's 97-yard touchdown in Cleveland's Week 7 win over the Bears was, at the time, the longest in team history and longest in the history of Monday Night Football. He also caught two long touchdowns (52 and 44 yards) in the Browns' playoff victory over the Bills.
In his first-ever playoff game, Slaughter caught six passes for 86 yards in Cleveland's thrilling, overtime victory over the Jets in the AFC Divisional Round. In the following season, Slaughter caught a career -best seven touchdowns, two of which came in the Browns' AFC Central –
clinching victory over the Bengals late in the regular season.
Inducted into the Cleveland Browns Legends program in 2020

Two-time Pro Bowler (1989 and 1993)

Second- Team All- Pro in 1989

AFC Offensive Player of the Week (Week 8, 1989)

AFC Offensive Player of the Month (October, 1989)
From Humble Beginnings to NFL Stardom
Slaughter recounts his early days playing sports, a period he cherishes not just for the games, but also for the life lessons he gained. He recalls the challenges he faced, from growing up in a tough neighborhood to experiencing limited opportunities. However, Slaughter never missed a chance when it presented itself, ultimately landing him a spot in the NFL.
Life after Football for Webster Slaughter
The end of an NFL career often marks a new chapter in an athlete's life. For Webster Slaughter, that new chapter involved ministry. He now serves as an ordained pastor at King's Pavilion Ministries in Missouri City. One of his main missions is weekly Bible studies at senior living facilities, an initiative that he says brings him immense joy. His story is a living testimony of how sports and spirituality can intersect, offering lessons of resilience, faith, and community service.
Engaging the Community Through Faith
Slaughter elaborates on how he integrates stories from his NFL days into his sermons, adding a relatable touch to the messages he shares. As someone who played in the NFL during his formative years, Slaughter easily draws parallels between his life experiences and the trials of faith, which resonates with his congregation.
All Aboard the Browns Fan Cruise
Looking to the future, Slaughter is excited about seeing you on the upcoming Browns Fan Cruise, a unique opportunity for fans to interact with their heroes. From autograph signings to possibly shooting a few hoops, Slaughter promises a memorable experience. A self-proclaimed domino aficionado, he playfully challenges fans to bring their domino sets for some fun-filled competition.
"I'm excited for this. This is a long time coming because you never get a chance to really thank fans the way that they should be thanked because every season that we were there, all the encouragement that they gave to us…. Now we get an opportunity to see them and shake their hands and say, "Hey man, thank y'all for being such great fans". I'm really looking forward to just mingling with them a little bit."
Webster Slaughter has a special message for all you Browns fans and Backers out there. In his own words during the recent Burning River Podcast interview, he said:
"Let me first just say how much we love you guys and how important you are to the Browns and to building us up. I've been in different places – New York,  Canada, Hollywood, all of these Brown backers. I couldn't believe how crazy the support is for the Cleveland Browns and so I want them to understand how important they are to the Browns and to their players."
This upcoming Browns Fan Cruise is more than a voyage; it's an experience of a lifetime, where fans and their heroes come together as one family. So, if you have a chance to be part of this unique adventure, heed Webster's words: Don't miss the boat!
Webster Slaughter's journey is a remarkable tale of ambition, talent, and faith. From the rough turf of NFL stadiums to the sacred aisles of the church, his life stands as a testament to resilience and the belief in higher purpose. 
The upcoming Browns Fan Cruise promises to be another exciting chapter in his journey, as he looks forward to meeting fans, old and new, for an experience that promises to be "different."
So, if you have a chance to join the Browns Fan Cruise, don't miss it. As Slaughter would say, "Bring your dominoes; I'll be ready!"
"If you've got an opportunity to get on this ship, do not miss it because this is once in a lifetime"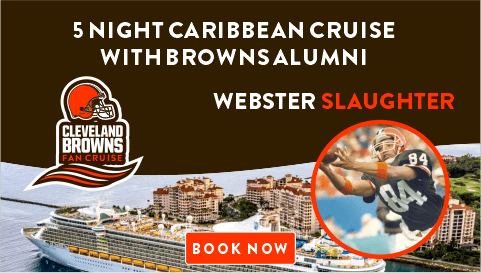 Set Sail with the Cleveland Browns in 2024
Don't miss the Ultimate Browns Fan Cruise Adventure. Book your Stateroom Today.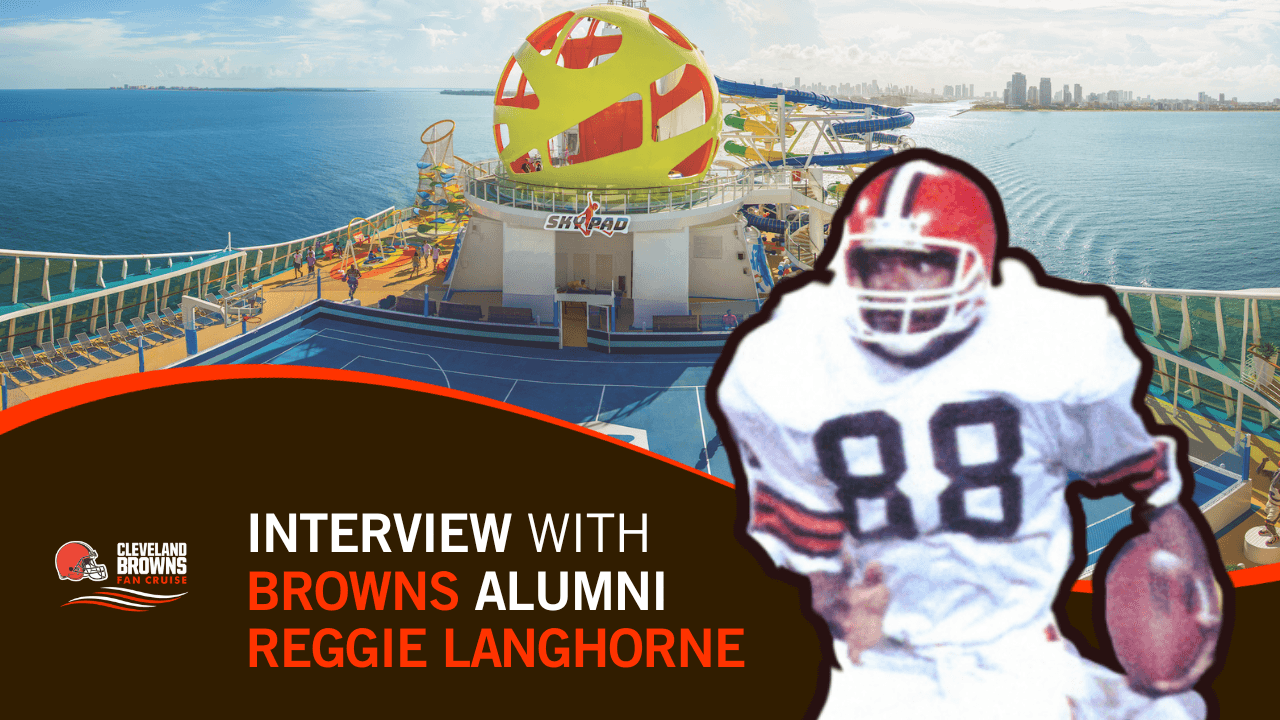 Reggie Langhorne takes us on a journey through his NFL career, his passions post-retirement, and his anticipation for the Browns Fan Cruise.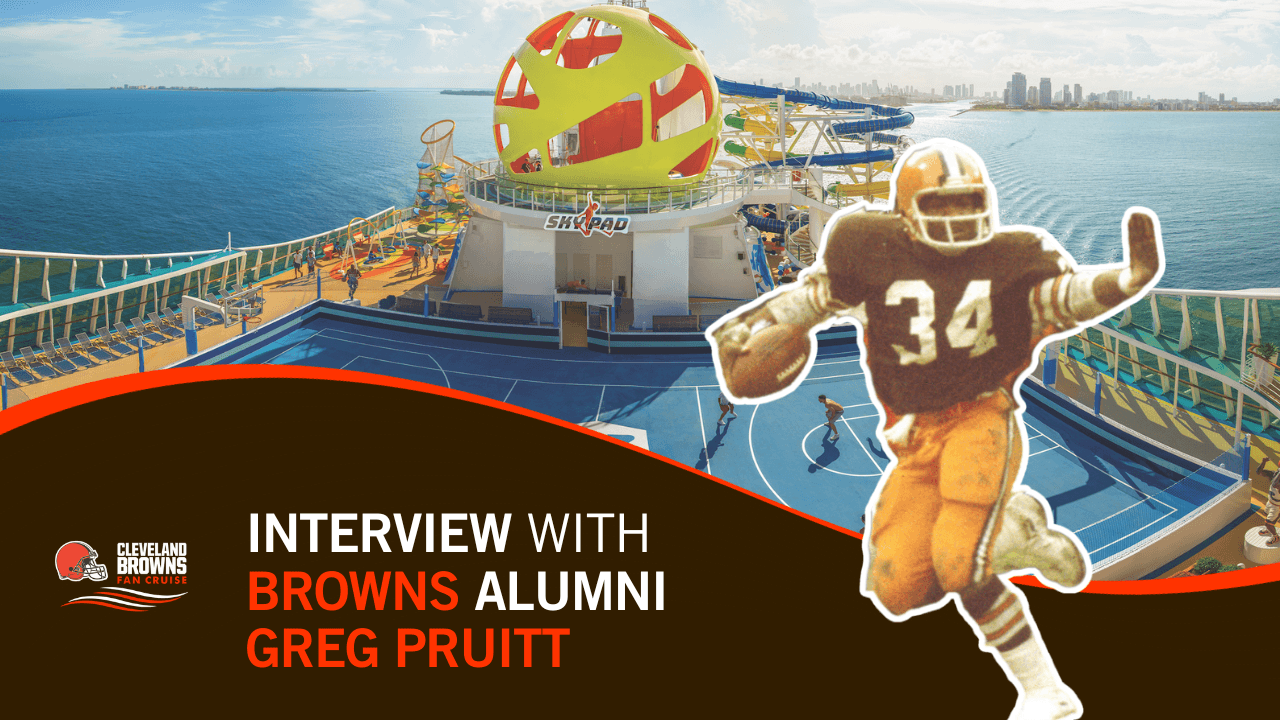 Explore our exclusive interview with Browns legend Greg Pruitt. Delve into his NFL memories, life after football, and excitement for the Browns Fan Cruise 2024. Perfect for every Browns fan!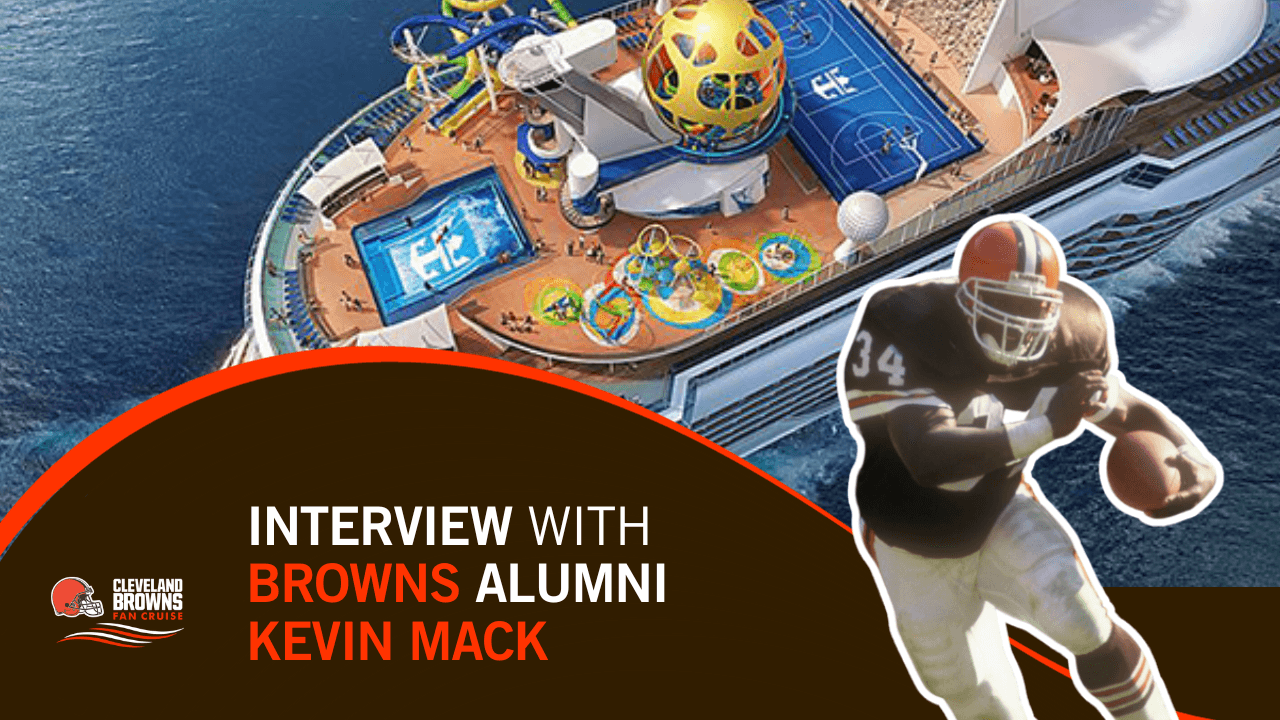 Dive into our exclusive interview with Cleveland Browns legend Kevin Mack. Discover his NFL journey, life after football, and excitement about the Browns Fan Cruise. A must-read for every Browns fan!